Using an Event Template in Touchpoint can really speed up the process when creating a new event. If you want to use the same color theming, homescreen layout design, and/or feature settings for multiple events, you can create an event template with these settings, then simply apply that template to each new event instead of manually setting them up. You can create multiple templates to use for different events as well - there is no limit to the number of templates your account can hold.
If you would like to create a new event template in Touchpoint, just let us know by sending us a note HERE. Our team will create your new event template(s) and let you know when they have been added to your account. All of your event templates will be listed on the left side of your account's Organization Homepage under Templates. You can click on a template to edit it.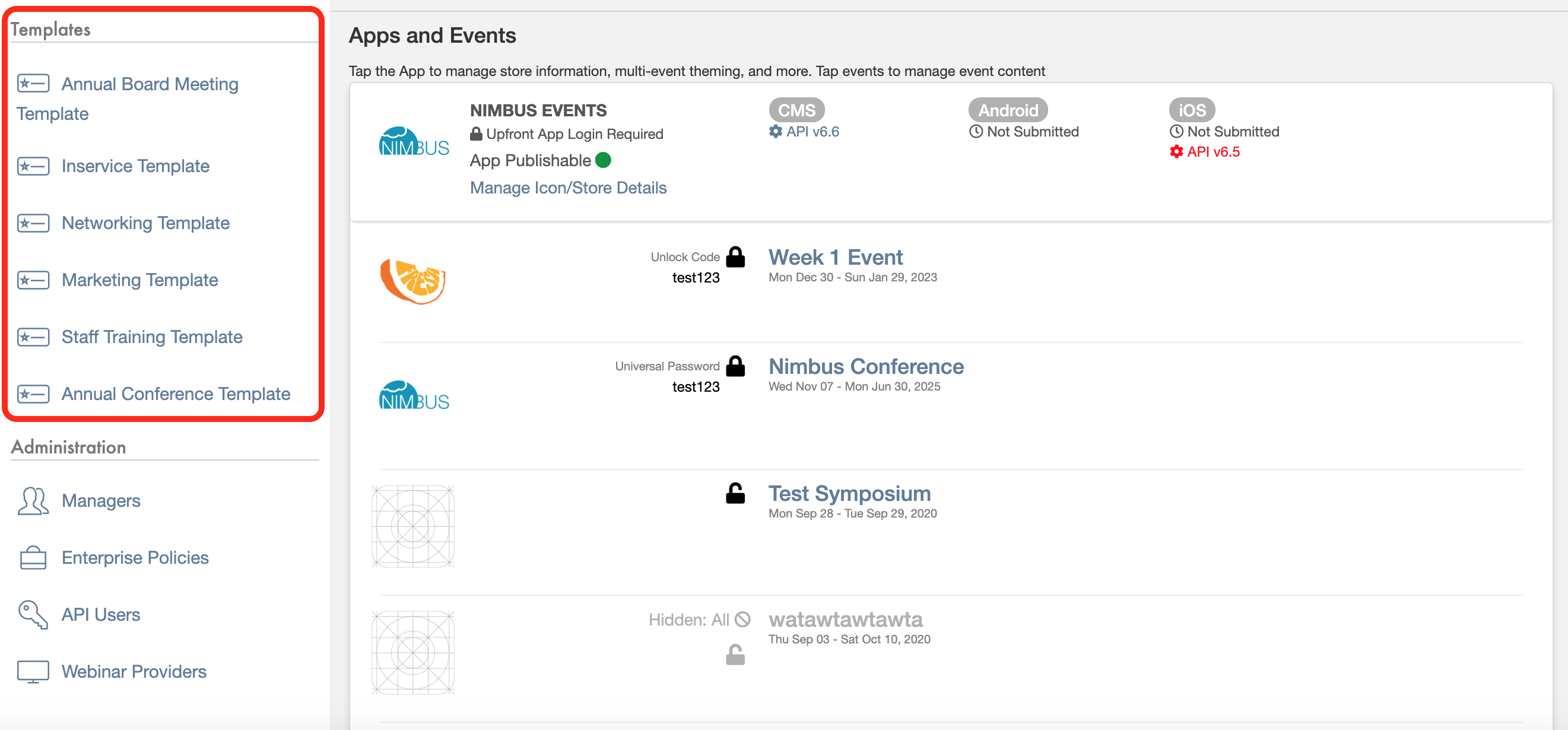 What to include in an Event Template
Editing your Event Template is the same as editing an event. The following content will be applied to an event when an Event Template is applied:
Color Theming settings
Phone Home Layout (including images)
iPad Home Layout (including images)
Feature Menu Button selections (including customized button labels)
Feature Settings
Credit Types (on My Credits feature)
Please note: If you have already made changes to the above content on your event, it will be overwritten when you apply a template to the event. Please consider this before applying a template, as this action cannot be undone.
Applying a Template to an Event
From your event's dashboard homepage, click the Edit button in the upper right corner of the screen to the right of the event title.




Select your template from the Apply Template dropdown menu.




Click Save Gathering. You should now see the Phone Home Layout of your chosen Template reflected on the Home Layout preview on your dashboard homepage.
What does not get applied with an Event Template?
The following content will NOT be applied to an event when an Event Template is applied:
Agenda Sessions
Attendees
Speakers
Showcase Items
Info Items
Links
New Stories
Surveys
Live Polls
To Do Tasks
Videos
Activity Feed posts
Twitter Feeds
The above content is NOT applied to an event when an Event Template is applied because we assume that this content will differ from one event to another. However, if you wish to copy any of the above content from a previous event to a new event, you can easily do so by exporting the content using the instructions listed in this article: Exporting Content from a Previous Event to a Future Event.