App Icon Image (Required) – 2048 x 2048 pixels, .png format without transparency

Please do not round the corners of the image. Apple does this automatically on iOS. Please be aware that the icon needs to be designed simply so that it displays well in several sizes–all the way down to 29 x 29 pixels. This icon will also be placed on a solid color and used to generate launch images. As such, we recommend that your icon has a solid background color.


How the App Icon Image is used
Launching the app from a device home screen
Launch image - Displayed briefly while the app loads
iPad Background Image, displayed when during log in process or on multi-event list
Launch Image (Optional) – 2048 x 2048 pixels, .png format, plus hex code for background color

Because of different device sizes. Touchpoint address launch images by requiring a square image and a background color. This square image will "float" in the middle of the launch screen to dynamically handle all the different screen sizes. If you choose not to upload a separate launch image, we will create the image from your app icon image. Please provide a background color in hexadecimal code (e.g., #539dc2).


Landing Page Top Banner (Required) – 1242 pixels wide x 460 pixels tall, .png; landscape oriented

This image appears at the top of your list of events (see example below).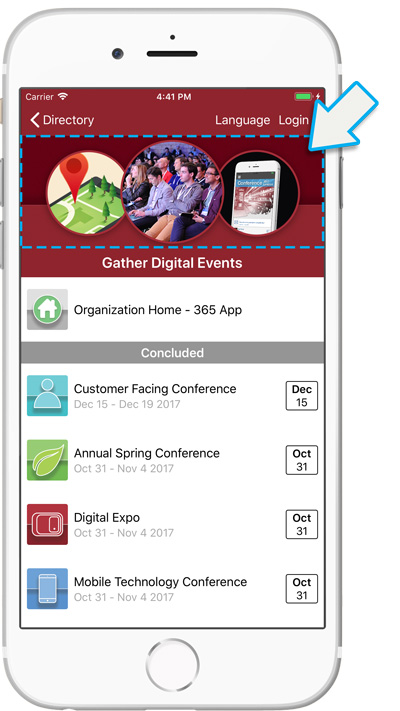 Event Images
Event List Icons - 250 x 250 pixels, .png format
Event List icons appear next to the name of your event when you first open the app.

To edit your event icon navigate to the event landing page in the CMS and select the edit button in the top right corner.

Home Screen Image Panels
Our new and improved home screen design tool is more flexible than ever. After clicking the images button you are given a resizable panel, which you can adjust by clicking and dragging from the edge of the panel. Once the panel is sized to your liking, filling up as much or as little of the screen as you'd like, click the gear icon to see this panel's settings and upload an image. Under panel settings you will see a suggested size for this panel's image(s) based on the size you made the panel in the design tool.
Multiple image panels may be used in your design and each panel may contain multiple images. For example you may wish to have one large image panel featuring a single image for branding at the top of your design. You may also wish to add another smaller image panel used to rotate between multiple event sponsors.
Image Specs for Starter Templates
If you are using one of the starter templates you can select it below to get the image specifications for that template.
Photos, Maps, and Icons
Speaker Photos, Link Images
These may be .png or .jpg files. Speaker photos should be at least 225 x 225 pixels. They can be smaller than that, but smaller images will not look as good on the increasingly common high-res "retina" mobile displays.
Floor Plan Map Images
Please upload maps as .jpg files. For optimal viewing when enlarged on a mobile device, we recommend the map image be at least 1800 pixels in either length or width. If your image is larger, we will resize it appropriately.
Sponsor Images
These may be .png or .jpg files.
Sponsor icons 225 x 225 pixels
Widescreen header 960 x 300 pixels
Banner Ads
Banner ads should be 960 pixels wide. The industry standard is for the banner to be around 300 pixels tall, though you may choose any height you wish.